One of the most important things we can do to protect our children's future is make sure they grow up in a healthy environment in or outside the home. These fun activities will teach children about recreational safety for air quality and how to stay healthy when the air quality is bad, especially for managing asthma during playtime. Unintentional falls are the leading cause of non-fatal injuries for children, 2,578,235 injuries requiring treatment in an emergency room. These injuries resulted from activities such as climbing on furniture, playing near an unsecured window, falling downstairs or playing on playgrounds. Download brief explanations, posters, and guide for injuries to first aid when it is needed.
Protect the Ones You Love: Child Injuries are Preventable
Moving Forward
Together Everyone—including parents, health care providers, educators, and community members—can take steps to prevent injury where they live, work, and play. We all have a part to play in protecting children.
Explore ways to make falls less catastrophic, such as by reducing the impact of the fall through more forgiving structures or use of protective gear.
These free printable activity books can help parents talk with their children about safety at home and on the go! Teachers can integrate the story and messages into Pre-K and early grade school curricula and share copies with parents and children at health and safety events.
Watch this video to learn what you need to know about falls prevention if you have a child with special needs.
Downloads:

Falls Prevention for Families With Children With Special Needs
Color Me Safe is a coloring book designed for children ages four to seven. Throughout the book, the Safe Family takes simple steps to prevent injuries, such as installing smoke alarms and using child safety seats. Children can have fun coloring the pictures and reading about the Safe Family.
Injury Prevention and Safety activity book to help educate your children through fun, interactive coloring, puzzles and games. Kids will learn about fire and home safety, bike safety and more from educational word jumbles, doodle pages, mazes, and other fun activities.
Safe Kids Worldwide Information and Resources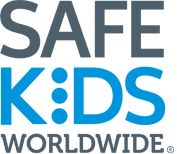 Screens are meant to keep bugs out, not children in. Properly install window guards to prevent unintentional window falls. For windows above the first floor, include an emergency release device in case of fire.
Keep babies and young kids strapped in when using high chairs, infant carriers, swings or strollers. When placing your baby into a carrier, remember to place the carrier on the floor, not on top of a table or other furniture.
Use approved safety gates at the tops and bottoms of stairs and attach them to the wall, if possible. Remember to read the manufacturer's instructions and warning labels to make sure you have the right gate for your needs. Not all gates are safe for use at the top of stairs.
Secure TVs and furniture to the wall using mounts, brackets, braces, anchors or wall straps to prevent tip-overs. These kinds of accidents happen more than you might think, so take a few minutes, secure your TV and furniture, and then never worry about it again.
Take your kids to playgrounds with shock-absorbing surfaces such as rubber, synthetic turf, sand, pea gravel, wood chips or mulch. If your child falls, the landing will be more cushioned than on asphalt, concrete, grass or dirt.
Safe Kids Worldwide is a global organization working around the world to keep kids safe. You can connect with the people in your area who are making safety a priority – whether it's childhood safety information or local injury prevention events.

Why is Coco Orange? - Coco the chameleon can't change colors, and his asthma is acting up. Download learning activities on how Coco and his friends at Lizard Lick Elementary solve this mystery as they learn about air quality and how to stay healthy when the air quality is bad. The picture book was produced by the U.S. Environmental Protection Agency for all children, especially those with asthma, and their caretakers.
You can control your asthma and avoid an attack by taking your medicine exactly as your doctor or other medical professional tells you to do and by avoiding things that can cause an attack. With your doctor's help, make your own asthma management plan so that you know what to do based on your own symptoms.
Idle Free Schools
Information and Resources
Why Not Idle?
Car exhaust contains air toxics, which are known to cause cancer, respiratory effects, reproductive effects, birth defects or other serious health effects.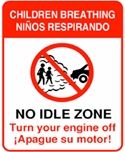 Because of their developing lungs and higher breathing rates, children are more susceptible to air pollution.
If many vehicles are idling at once, for example in school pick up/drop off areas, a "hot spot" of exhaust pollution can be created.
Monitoring at schools has shown elevated levels of air toxics during the afternoon hour coinciding with parents picking up their children.
Idling Facts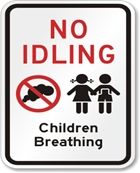 The chemicals from exhaust are harmful and can make asthma worse.
Most people waste 1-2 entire tankful of gas every year by idling.
Ford Motor Company says: "Avoid idling more than 30 seconds because excessive idling can actually damage your engine."
Idling more than 10 seconds uses more fuel than restarting the engine.
Manufacturers assure that frequent restarting won't harm an engine.
What can you do?
If you are going to wait more than 10 seconds, turn your vehicle off.
It's as simple as that.
Pledge to not idle unnecessarily
anyplace, anytime.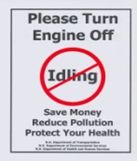 Reducing idling at schools can reduce children's exposure to toxic vehicle exhaust.
For more information: visit
Turn the Key,
Be Idle Free!!
Environmental Kid's Club
AirNow.gov Kid's Website
For Kids Ages 7-10
What should you do when the Air Quality Index is orange? Let the chameleons K.C., Koko, and Kool, show you how EPA measures pollution in the air.
Find out the Air Quality Index (AQI) Where You Live
For Kindergarten and First Grade
When is the best day to go outside and play? Buster Butterfly shows you when the air is clean and it's good to play outside and when you should stay inside to play.
Have an adult help find out the Color Day Where You Live!
The EPA Environmental Kids Club is a web site for kids. Games, pictures and stories help children explore the environment and learn how to protect it.
National Safety Council First Aid
National Safety Council - Emergency Medical Response
The NSC Quick Reference Guide is a vital reference tool used extensively throughout the Emergency Medical Response course, but it is also available to anyone who would like first aid guidance at their fingertips. It provides a list of abbreviations and memory aids, as well as an illustrated summary of treatment steps for various illnesses and injuries.
NSC is excited to offer students – and the public – this portable, digital version of the guide. It contains the same need-to-know content as the traditional guide, but in a convenient, always-with-you electronic format. It is free and can help you save a life.
The app is now available from the App Store and Google Play. Search "National Safety Council" to find and install the app.
First Aid Training
A simple injury could turn into something much worse if no proper First Aid is administered. With at least a basic knowledge of First Aid and how to use First Aid Kits, you can save lives.
First Aid is care you can offer a person before they receive expert medical help. It's vital, especially if there are injuries caused by accidents or emergencies that needs immediate and effective response.
First Aid is not a substitute for professional medical advice, diagnosis or treatment.
First Aid Tips Everyone Must Know
Public Downloads
All items are free to view, share, and download.
Public Downloads - Español (Spanish)
When available, we provide all our content with a Spanish version in our public download section. You can find additional material from sources listed in all our articles.
Download Kids Injury Prevention Activities
Download Idle Free Schools Content
Download First Aid Content