Child labor laws restrict the types of jobs and the hours that youth under age 18 can work. These laws also prohibit workers under age 18 from using certain equipment. Learn about the federal and state child labor laws that apply to young workers.
Young Workers - You Have Rights
Downloads:

OSHA Safety For Young Workers' Rights on the Job
Created
Tuesday, 22 January 2019 12:01
OSHA's mission is to ensure that employees work in a safe and healthy environment by setting and enforcing standards, and by providing training, outreach, education and assistance. Employers must comply with all applicable OSHA standards. They must also comply with the General Duty Clause of the OSH Act, which requires employers to keep their workplace free of serious recognized hazards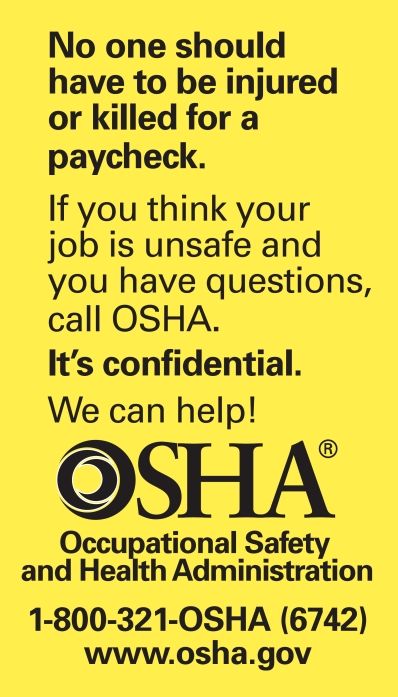 .
Your Employer Must Keep You Safe By:
Protecting you from unsafe jobs.
Identifying and correcting job hazards.
Training you about job hazards in a language that you can understand.
Complying with all youth employment and occupational safety and health laws.
Not punishing or retaliating against you for complaining about health and safety hazards.
Your Employer Must Protect You From Common Job Hazards That Include:
Falls from working from heights.
Dangerous chemicals.
Lifting heavy objects.
Powered equipment or tools.
Wet, slippery or cluttered work areas.
Machinery, electrical equipment.
Loud noises.
What You Can Do:
Speak up; Ask questions; Ask for help.
Report unsafe conditions to your supervisor.
Talk to your teacher, parent, or a coworker about your job.
Know your workplace rights. Go to www.osha.gov
Follow the safety rules.
Use personal safety equipment provided.
Be alert to what is going on around you.
Never bypass the safety features of equipment or take shortcuts.
The Whistleblower Protection Programs
OSHA's Whistleblower Protection Program enforces the whistleblower provisions of more than twenty whistleblower statutes protecting employees who report violations of various workplace safety and health, airline, commercial motor carrier, consumer product, environmental, financial reform, food safety, health insurance reform, motor vehicle safety, nuclear, pipeline, public transportation agency, railroad, maritime, and securities laws. Rights afforded by these whistleblower protection laws include, but are not limited to, worker participation in safety and health activities, reporting a work-related injury, illness or fatality, or reporting a violation of the statutes herein.
Protection From Workplace Retaliation
Protection from workplace retaliation means that an employer cannot take an "adverse action" against workers, such as:
Firing or laying off
Blacklisting
Demoting
Denying overtime or promotion
Disciplining
Denial of benefits

Failure to hire or rehire
Intimidation/harassment
Making threats
Reassignment affecting prospects for promotion
Reducing pay or hours
Get Trained or Become a Trainer
The OSHA Outreach Training Program provides workers with basic and more advanced training about common safety and health hazards on the job. Students receive an OSHA 10-hour or 30-hour course completion card at the end of the training.
Parents
Take an active role in the employment decisions of your children:
Be aware. Know where your children are working and what they are doing.
Ask questions. Frequently ask about what they did at work and the training and supervision provided by the employer. Discuss any problems or concerns.
Report hazards. Help your young worker report hazards to managers or, if necessary, to OSHA if a work environment seems unsafe.
Watch for signs of concern. Is a job taking too much of a physical or mental toll on your young worker? How is your child's performance at school? A loss of interest in or energy for school could mean the job is too demanding. Other signs of concern could include increased stress levels, anxiety, fatigue and depression.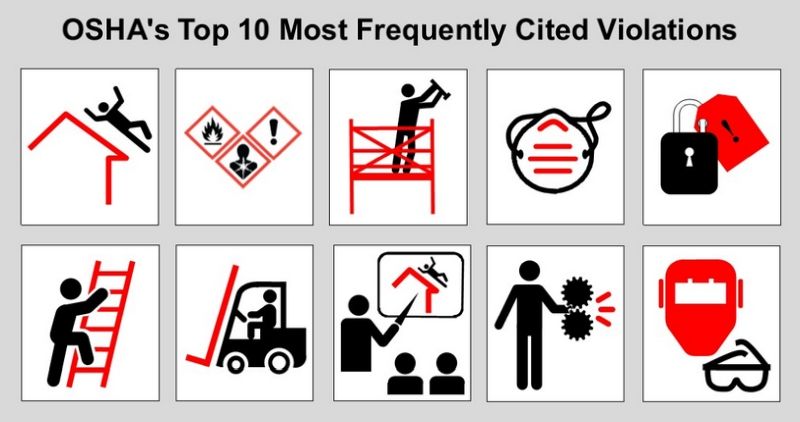 Public Downloads
All items are free to view, share, and download.
Public Downloads - Español (Spanish)
When available, we provide all our content with a Spanish version in our public download section. You can find additional material from sources listed in all our articles.