Explore bears and bison in parks, download eBooks and activity worksheets learning the varying characteristics by profiling bears in different parks. While bears of the same species might look similar, everything from their coloring, diet and sleeping patterns depend on the bear and its location. For example, a bear's diet varies depending on what foods are available during a specific season in a specific region.
Bears of Brooks River eBooks
Every bear has a story. Since the late 1980s, biologists have closely monitored the habits and behaviors of bears that frequent Brooks River. These eBooks provide a unique opportunity to gain insight into their dynamic lives. Download the newest edition of the Bears of Brooks River eBook to help you identify the bears and read about their stories.
Parks with Bears
The purpose of Katmai National Park and Preserve is to protect, study, and interpret active volcanism surrounding the Valley of Ten Thousand Smokes, extensive coastal resources, habitats supporting a high concentration of salmon and brown bears, and an ongoing story of humans integrated with a dynamic subarctic ecosystem. The park and preserve offer unique opportunities to explore vast wilderness and immense volcanoes, watch brown bears, fish for salmon and trout, and many other activities.
America's public lands offer endless opportunities for fun and adventure! Check out our list of a few of the best events on public lands throughout the year. From Salt Flat racing in Utah to manatee watching in Florida to casting a line in Georgia, there is something for everyone. This list includes incredible adventures (like bear watching in Alaska), but it is only a sampling of the opportunities available on public lands.
Bear watching at Katmai National Park and Preserve.
More than 2,200 brown bears call Alaska's Katmai National Park and Preserve home. Visitors to the park enjoy incredible viewing opportunities from late June to September. Regardless of where you go, stay safe in bear country and give bears the space they need. If you can't make it to Alaska, you can watch these amazing animals feed on salmon on the famous BearCam.
Check out the map of parks with bears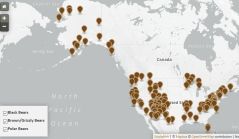 The map above shows the national parks where one or more bear species have been reported. Click on a dot on the map to see the park name, learn which species of bear are located in that park, and get a link to the park website.
What Should I Do if I See a Bear?
Seeing a bear in the wild is a special treat for any visitor to a national park. Learn about visitor and bear safety.
Hiking in Bear Country
Learn about hiking in bear country and how to stay safe.
Prepping for Winter
What do bears do to prepare for winter? Learn about their fall feasts and winter slumbers.
The perfect Bear Cam experience.
When to Watch:
July is the best time to watch bears fishing at Brooks Falls. However, bears are in the area from mid-spring until mid-fall and a few bears may fish at Brooks Falls in September and October. Katmai's brown bears are most active during daylight hours.
What to Look For:
From late June until late July, watch for sockeye (red) salmon jumping the falls and dominant male bears competing for fishing spots. Later in the summer and fall, a few bears may also fish at Brooks Falls. As many as 25 bears have been seen fishing at Brooks Falls at the same time.
Live Nature Cams
Explore.org is the world's leading philanthropic live nature cam network and documentary film channel.
Learn about Hiking in Bear Country
Download the trip planning guide and checklist. Make your fun adventure a safe one too! No one plans to get hurt while out exploring in a National Park. However, nature is unpredictable, structures are historical, and your equipment can unexpectedly fail. Planning can be the key to a fun and safe adventure. Remember, safety starts with you!
National Park Finder App
iPhone, iPad, or iPod
Android Devices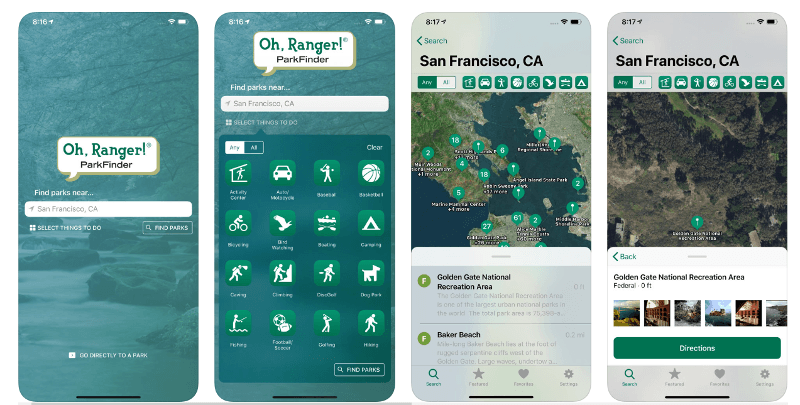 "Explore, Learn, and Protect!" The Junior Ranger motto is recited by children around the country; each taking an oath of their own to protect parks, continue to learn about parks, and share their own ranger story with friends and family.
Adventure Activity Resources
All downloads in this category include any Junior Ranger activity books available in each state park. Explore additional subcategories with activities to download for special exhibits, events and National Park Service programs. Be sure to check out other articles in this section for links to resources, information and videos.
Public Downloads
All items are free to view, share, and download.
Public Downloads - Español (Spanish)
When available, we provide all our content with a Spanish version in our public download section. You can find additional material from sources listed in all our articles.
Download National Park Bear Activities and eBooks
Download Environmental and Educational Activity Guides, Information, and Resources
Playlist: National Park
The Brown Bears of Katmai National Park, Alaska
Visit the full multicam experience: http://goo.gl/94YYuf Subscribe:...
Licensed Bear Etiquette Guy
In this video, Brian Flechsig reflects on his time in Alaska at Brooks...
Brooks Falls - Katmai National Park, Alaska powered by EXPLORE.org
Bear cam 2021 is here https://youtu.be/nprdq03e8yI Brooks Falls in...
Decorah Eagles powered by EXPLORE.org
Watch The Decorah Eagles- LIVE This bald eagle nest is located near a...
Ranger Daniel - Katmai National Park - Brown Bear Play By Play
Ranger Daniel gives us play by play commentating on the Brooks Falls...
Ranger Dave - Katmai National Park - Brown Bear Play By Play
Love Bears - http://goo.gl/5Ba5Fl http://explore.org - Facebook...
Brown Bear Play By Play - Ranger's Mike and Dave - Katmai National Park - Episode 01
Ranger's Mike and Dave give us a live play by play of the Brown Bear...
Brown Bear Play By Play - Ranger Mike Fitz - Katmai National Park - Episode 03
Ranger Mike Fitz's play by play analysis of the Brooks Falls Brown Bear...
Brown Bear Play By Play - Ranger Mike Fitz - Katmai National Park - Episode 05
Love Bears - http://goo.gl/5Ba5Fl http://explore.org - Facebook...
Basic Orienteering Skills
Explore parks with confidence after understanding these basic...
Bear Management in Brooks Camp | Live Chat
These amazing rangers work hard to make sure Brooks Camp remain free....
89 Backpack outside of the Brooks Camp Visitor Center
Bears often walk by the Brooks Camp Visitor Center. Believe it or not,...