The purpose of this article is not to discourage you from eating fish. It is intended as a guide to help you select and prepare fish that are low in chemical pollutants. By following these recommendations, you and your family can continue to enjoy the benefits of eating fish.
Eating and Serving Seafood Safely
Fish are an important part of a healthy diet. They are a lean, low-calorie source of protein. Some sport fish caught in the nation's lakes, rivers, oceans, and estuaries, however, may contain chemicals that could pose health risks if these fish are eaten in large amounts.
Nutritional value of fish and the Dietary Guidelines for Americans
Seafood, which includes fish and shellfish, is part of the healthy eating patterns described in the Dietary Guidelines for Americans. Eating seafood offers heart health benefits. Eating seafood when pregnant or breastfeeding is related to better health outcomes for the mother's baby.
Seafood, as part of a healthy eating pattern, provides: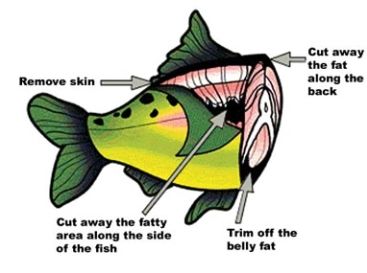 Protein
Healthy omega-3 fats(called DHA and EPA)
More vitamin B12 and vitamin D than any other type of food
Iron which is important for infants, young children, and women who are pregnant or who could become pregnant
Seafood is a source of other minerals like selenium, zinc, and iodine.
Picnic Tips
A Clean Cooler Is Critical. Be sure to clean coolers with hot soapy water before packing cooked seafood. Cleaning is especially important if the cooler was previously used to transport raw seafood. If the cooler has been used to transport raw seafood, it is important to sanitize the interior after cleaning using a kitchen sanitizer. A clean cooler prevents harmful bacteria from the raw fish from contaminating cooked seafood or other foods.
Keep Chilled Until Serving. Carry picnic seafood in a cooler with cold packs or ice. When possible, put the cooler in the shade and keep the lid closed as much of the time as you can.
Video: Enjoy Fresh and Frozen Seafood
Information and Resources
Download Food Handling Fact Sheets
Download a quick overview for staying healthy and free from food poisoning when getting takeout, delivery or dining out. A reference guide of invaluable information on meal prep, shopping, and storage lists of DOS and DON'TS food safety from the grocery cart to the refrigerator
FoodSafety.gov Charts: Food Safety at a Glance
How long can you store leftovers in the refrigerator? How can you tell when chicken breasts are done? How long does it take to cook a turkey? Check out these charts for fast answers.
Storing Food Charts
Storing Food
Whether putting food in the refrigerator, the freezer, or the cupboard, you have plenty of opportunities to prevent foodborne illnesses.
Preparing and Cooking Food Charts
Preparing and Cooking Food
One of the basics of food safety is cooking food to its proper temperature. Foods are properly cooked when they are heated for a long enough time and at a high enough temperature to kill the harmful bacteria that cause foodborne illness.
FoodSafety.gov: FoodKeeper App
The FoodKeeper helps you understand food and beverages storage. It will help you maximize the freshness and quality of items. By doing so you will be able to keep items fresh longer than if they were not stored properly. It is also available as a mobile application for devices, Android and Apple.
Public Downloads
All items are free to view, share, and download.
Public Downloads - Español (Spanish)
When available, we provide all our content with a Spanish version in our public download section. You can find additional material from sources listed in all our articles.
Download Food Safety Activities, Coloring Sheets, Infographics and Videos
Food Safety Educational Downloads
Download Handwashing Activities, Worksheets, Posters and Videos
Handwashing Educational Downloads
Download Handwashing Activities
Download Scrub Club Activity Worksheets
Download Handwashing Educational Posters